Rasagenor's recent post about selling off some Rasta memorabilia got me to thinking that some of the SNWMF massive might be interested in some other Rasta related collectible pieces that are currently available. This one might not be everyone's cup of tea - it is firearm related - but for those hardcore HIM/Rasta memorabilia collectors, this may be the centerpiece of your collection - a tangible piece of Haile Selassie's history.
An importer recently imported a warehouse of old timey (late 1800s - WW2) rifles that had been stockpiled in Ethiopia. Included in the haul are number of 1930s era Mauser bolt action rifles that were commissioned by Haile Selassie himself and they are marked with the Lion of Judah carrying flag as well as the royal Ethiopian crest (laurels, royal crown, Amheric writing & a lion's face that represents Haile Selassie). As he was the Emperor who wisely conceived of the arms purchase as a hedge against expanding European imperialism, who traveled to Belgium to personally negotiate their purchase with FN (Fabrique Nationale), whose royal treasury purchased them, plus the fact that they carry his personal markings, they can legitimately be considered property that was once owned by HIM.
They apparently had a very hard service life eventually fighting off the Italian Fascists and are in pretty rough shape with rusty barrels and cracked stocks. Before these were imported the Ethiopian Mausers were considered some of the rarest Mauser variants ever manufactured , however due to the rough condition of these HIM marked rifles, shooters and Mauser collectors are mostly taking a pass on these (barrels too shot-out to be an accurate range rifle and in too rough of condition to appreciate significantly in value), however for a fan of HIM, Rastafarianism and/or reggae music, there might not be a more tangible piece of Ras Tafari history to be had for about $1000. Not some piece of art work or Irie clothing, but a hard piece of his and Ethiopia's history.
See below pics of the roll-marks and short video that explains some of the history behind these rifles. The first part of the video details some of FN's post WW1 history, however at about the 1:55 mark Ian goes into the history of 1930's era Ethiopia, Ras Tafari and how it all came together
Pretty cool stuff....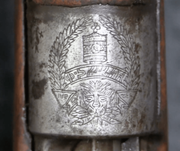 ]

For the record I am in no way affiliated with the importer or Ian/Forgotten Weapons, just trying to pass the word on these previously extremely rare rifles rich with HIM's history...
Edited 2 time(s). Last edit at 07/08/2021 06:27PM by Randys.